Dublin Christian Mission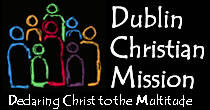 It is the mission of Dublin Christian Mission to relate the love of God in word and deed to the unrelated of the city of Dublin, lead the willing to a saving knowledge of God's grace, nurture the obedient as disciple making disciples into a local Fellowship, while maintaining efforts to the highest available standards.

Located in two buildings at the heart of the city, DCM is the second oldest City Mission in the world.

While the Mission's history has included many different Christian and social action programming (including having been a medical mission) focus is now on homeless ministry on Pearse Street (The Light House), as well as Youth and Community Work in three disadvantaged communities around Dublin: the Markets Area, Drimnagh and Ballyfermot.

They hope to see people find freedom and healing, then for them to show others in their community how to find freedom and healing. These are communities that have traditionally been in poverty, have high rates of drug abuse, broken homes, abuse, teenage pregnancy, and crime yet they are communities of people with such incredible potential that service remains an essential link to freedom.